Estate Planning Terms to Know
April 12, 2023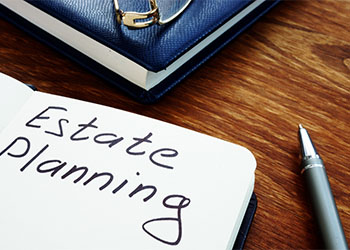 Beneficiaries. Decedent. Probate. Executors. Wills. Trusts. These are just a few of the terms associated with estate planning. How are they different? What do they mean? Why are they important? How do they relate to me or my estate plan?
Estate planning terminology, as with any other type of law, can sound like a foreign language if you aren't an attorney. However, it doesn't have to. Because everyone needs an estate plan, it is extremely important that you understand this language well enough to make wise decisions as you create and update your own plan.
At The Law Office of Robert J. Everhart, PLC, I help clients with a variety of estate planning matters. When my clients ask me to help them create their plans, I take all the time they need to answer questions and translate the process. Your estate plan is yours. I am here to help you create one that reflects your wishes and complies with the law.
The Importance of Having an Estate Plan
Regardless of how much or how little you own, every adult should execute at least some basic estate-planning documents. If you do not, decisions about you and your assets and debts are made by the probate court. Those are decisions you should make for your benefit and for the benefit of the people, organizations, pets, and anything or anyone else you care about.
Most people associate estate planning with what happens to their belongings when they die, but your plan should also provide for you while you are alive. In addition to a living trust or a last will and testament, estate plans include such documents as advance healthcare directives and powers of attorney for healthcare and other roles in the event you are incapacitated.
Estate Planning Terms to Know
A thoughtful, well-crafted estate plan serves you and your loved ones during your life and long after you are gone. Here are 12 estate planning terms you should know.
Decedent. Simply put, "decedent" is the legal term for a deceased person. In this case, the decedent is the person who executed the estate plan or, if they did not have one when they died, the person whose estate will be settled without the benefit of a plan in the probate process.
Estate. An estate comprises all the assets and debts owned by the decedent at the time of death. Probate is designed to address the estate with the goal of resolving all claims and distributing all assets before closing the case.
Probate. Probate is the process by which any assets of an estate subject to probate are settled. Some assets are not subject to probate and are addressed in estate planning documents and measures taken outside of the probate process.
Intestate. Intestate is how the estate of a decedent is referred to if they die without a will. Someone who dies with a fully executed will, on the other hand, dies "testate." If someone dies intestate, the proceeds of their estate are dispersed to heirs according to the law of intestate succession. Intestate succession is the order in which surviving spouses, children, parents, siblings, and other relatives may benefit from the estate.
Will. A will is a testamentary document that specifies how the will creator wants their assets distributed after their death. The creator names a personal representative in the will to administer their estate and names those individuals and organizations they want to benefit from the estate once all debts are paid. The creator can also name a guardian for a minor child in a will. Wills are subject to probate and as such, become public documents once filed with the probate court.
Trust. A living trust, on the other hand, is not subject to probate. Therefore, the assets and beneficiaries of the trust are not public. In a trust, ownership of assets is transferred from the maker of the trust to the trust. Effectively, those assets belong to the trust and are not assets belonging to the decedent, which is why they are not subject to probate. The assets of the trust are managed by a trustee, named by the creator of the trust. In most cases, the creator serves as the trustee until they are no longer able to or want to, so the creator also names a successor trustee. Not only do trusts avoid the scrutiny of probate, but they can have tax advantages as well. Note that you cannot name a guardian for a minor child in a trust, only a will.
Beneficiary. A beneficiary can be a person, organization, cause, or pet, named to benefit from a will or trust. Heirs, on the other hand, are those entitled under the law of intestate succession to benefit from the estate. The ability to name beneficiaries instead of benefitting heirs is an important reason why you want to have an estate plan. For example, a child is an heir under the law of intestate succession. If you exclude a child in a will by not naming them as a beneficiary, they do not inherit. If you die intestate, they will.
Executor. An executor essentially handles the administration of the estate. If there is a will, the personal representative is the executor. If there is no will, the court will appoint an executor to administer the estate.
Powers of Attorney. Powers of attorney delegate decision-making authority instead of the person designating that authority. For example, in a durable power of attorney for healthcare, you would name the person you authorize to make healthcare decisions for you if you are incapable of making them for yourself. A general power of attorney allows you to delegate a range of authority to an individual, or authority limited to specific actions, such as banking transactions or making a purchase or selling real estate. Powers of attorney expire upon your incapacitation or death, unless they are durable powers of attorney.
Advance Healthcare Directive. An advance healthcare directive is a legal document in which you express your wishes regarding medical treatment and name the person you authorize to make decisions for you if you are incapacitated. The directive usually includes a durable power of attorney for healthcare.
Guardianship. Guardianship relates to the person who serves as the legal guardian for a minor child. Guardians may be named in a will but approved by the court.
Conservatorship. Conservatorships involve conservators appointed by the court to manage the business and financial affairs of an adult unable to manage them for themselves. Conservators are appointed if the person did not execute a durable power of attorney prior to their incapacitation to assume this role.
Plan With the Wisdom & Support of an Attorney
After reading through this list of terms and definitions, you now likely understand the weight each document, role, and process carries. Each illustrates why it's important that you have a well-executed estate plan that reflects your wishes and serves your needs.
At The Law Office of Robert J. Everhart, PLC, I help my clients shoulder the weight of these vital decisions by guiding them through the estate planning process, one step at a time. If you are ready to begin, expand, or update an existing estate plan, call my office in Blaine, Minnesota today. I also serve clients throughout Hennepin County, Ramsey County, and Sherburne County.